WE'VE APPROACHED EVERY ANGLE OF A BICYCLE WITH CARE AND ATTENTION TO ENSURE EVERY PRODUCT IS A FULL FUNCTIONAL WORK OF ART
This unique and quirky stand elevates bikes to eye-level helping you pop your feature products in store. Able to hold a custom graphic panel, the Cobra is compatible with almost every bike on the market. Our innovative design enables sales staff to place and remove bicycles with ease
Our Hero Base is fresh-looking, modern, and offers 360 degree visibility and is compatible with almost every bike on the market. With the option of holding customized graphics, this is the perfect stand for displaying feature bikes within your store.
This minimalist stand allows you to roll bikes in and out with ease. Our Grand Stand can be used to display bikes both individually and in multiples, linking in straight or angled orientation. The stand fits almost every bike on the market and its efficient and durable, with powder coated steel construction.
This unique and eye-catching bike display creates a store feature that's both dynamic and accessible. The Bike Blade fits is compatible with almost every bike on the market.
The Branding Pad allows you to group bikes in a way that's simple and organised. It works great in conjunction with our Grand Stands and comfortably fits four bikes per pair.
THIS PATENTED STAND ALLOWS YOU TO STORE THREE BIKES PER STAND, WITH SETS LINKING TOGETHER EASILY. IT IS COMPATIBLE WITH PRETTY MUCH EVERY BIKE ON THE MARKET. WITH ITS INNOVATIVE DESIGN AND MODERN, CLEAN FINISH, THE BIKE LIFTER PRO IS AN EFFICIENT, STYLISH AND SAFE WAY TO DISPLAY BIKES AND MAXIMIZE ACCESSIBILITY.
Set on a 45 degree angle, the Bike Lifter Max is the perfect solution for achieving maximum space efficiency on your sales floor. With a hydraulic gas strut, accessing bikes is quicker and easier than ever before.
The Max can hold four bikes per stand and is compatible with BMX, Road, 29'' and Mountain Bikes.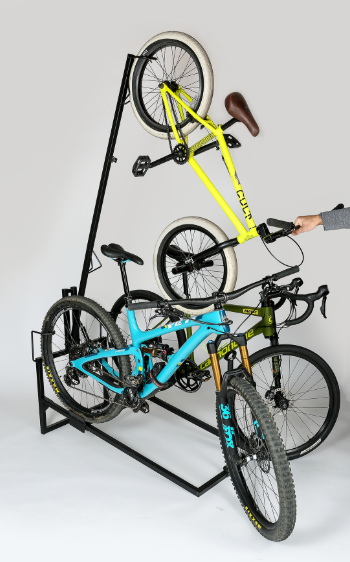 The effortless vertical bike storage rack - easy one-handed operation!
This stand allows you to store three bikes per stand. It is compatible with most BMX, Road, 29'' and Mountain Bikes, comfortably holding 15kg a bike.
With its minimal design, the Bike Lifter Basic is an efficient and safe way to display bikes and maximise accessibility.
BSK is basically taking the worlds most complete retail store and POP display program and then putting your brand on it to create your own program. This will allow you to instantly start a Retail Branded program to envy Nike, overnight in the quickest most cost effective manner to take advantage of sales uplift.